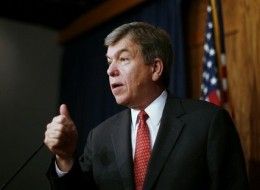 This may be one of those issues Roy Blunt claims to understand conceptually, if not personally. From The Joplin Independent:
"It can't get any tougher than this," was a remark made by Congressman Roy Blunt (R-MO) that brought nervous laughter from a crowd of realtors during their luncheon/meeting held at Twin Hills Country Club in Joplin yesterday. Blunt was referring to the slowdown in real estate sales that has trickled through the local economy.
Blunt also tweeted about his housing market conversation.
It took Blunt all of one day to sell his Washington, DC, home this week -- for a cool $1.6 million. KY3 has details on the sale.
Image credit: Huffington Post